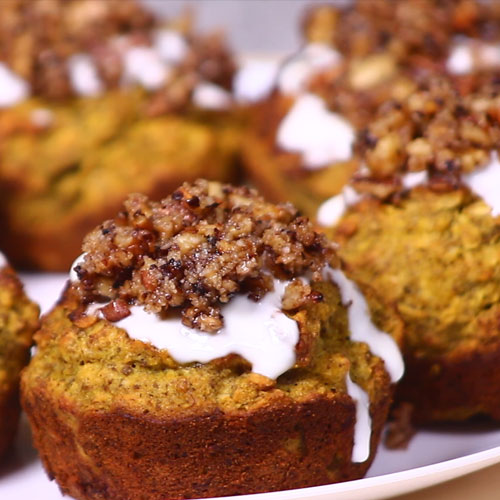 Looking for the perfect turmeric muffin recipe? Look no further. Our tasty TurmeriX Un-Muffins are finished with a crunchy maple nut topping. Give them a try for breakfast or a power-packed snack.
Makes: 12
Ingredients:
- 1.25 cups of oatmeal
- 1/2 cup rice flour
- 1/4 cup flaxseeds
- 1 tsp baking soda
- 1 tsp TurmeriX
- 1/4 cup walnut pieces
- 3 large super ripe bananas, mashed
- 2 eggs
- 1/4 cup probiotic yoghurt, plus 12 tsp extra to serve
- 1/2 cup agave
- 1/3 cup avocado oil
Maple Nut Crunch:

- 1/4 cup each pecans and walnut pieces
- 2 tbs almond flour
- 2 tbs maple syrup
- 1/2 tsp mixed spice
Procedures:
Preheat oven to 175ºC. In a bowl, mix oatmeal, rice flour, flaxseeds, baking soda and walnuts.
In another bowl, whisk eggs, yoghurt, agave and avocado oil and stir in the bananas.
Combine dry and wet ingredients and mix well, then spoon into muffin pan.
Bake for 22 minutes until they're golden brown, or the top of the muffins spring back when lightly pressed.
Meanwhile, to make the maple nut crunch, chop the nuts into small pieces and toast them in a dry frying pan over medium heat, until golden. Cool slightly, then add almond flour, maple syrup, mixed spice and salt and mix together. Cool completely.
Serve each muffin with 1 tsp of yoghurt and a sprinkling of nut topping. Store in an airtight container in the fridge for up to four days.