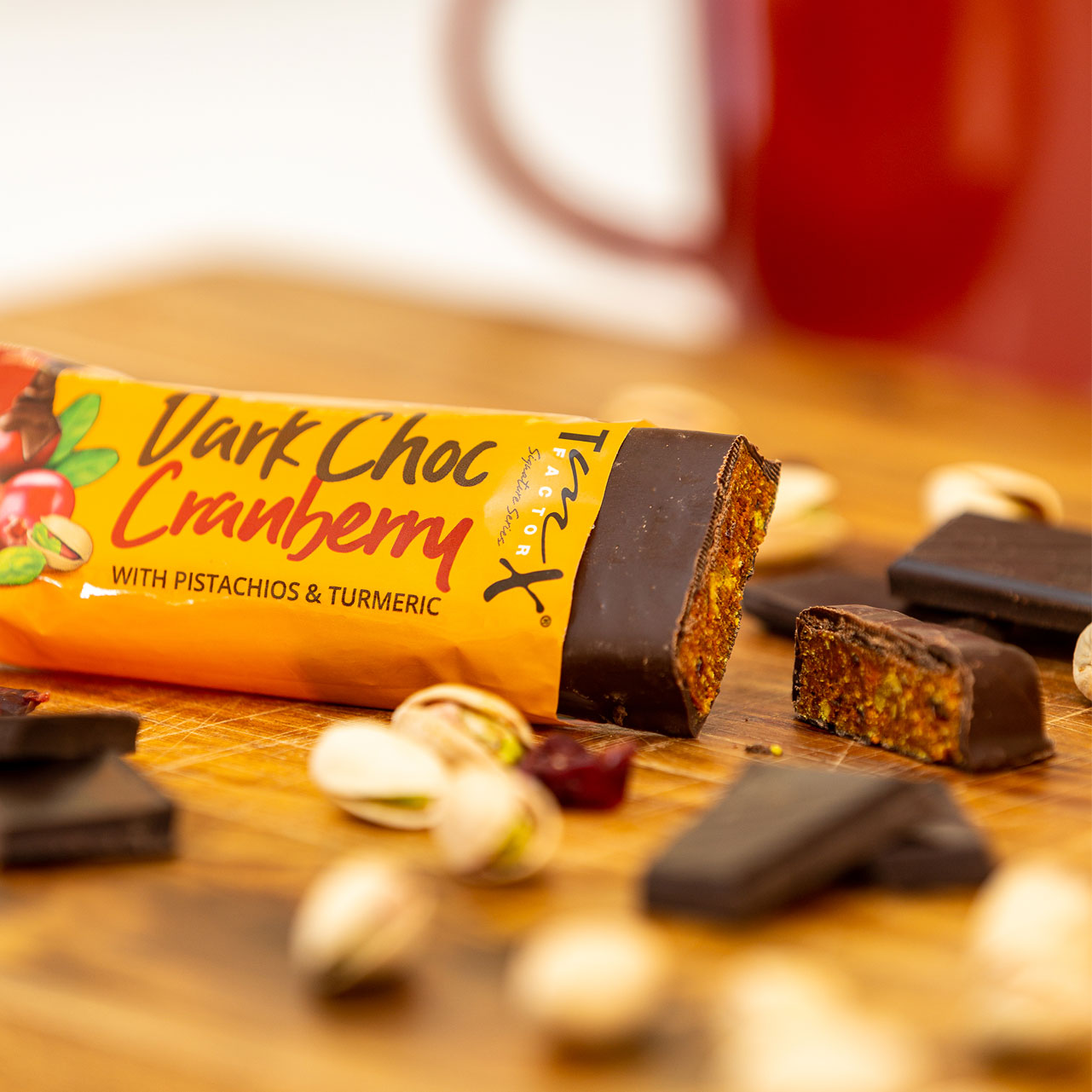 Our Latest Creation
A convenient way to get your daily dose of antioxidants and other nutrients, our turmeric chocolate bars make both a delicious and healthy treat. Available in a mouth-watering dark chocolate and cranberry flavour, with crumbled pistachios for added texture and crunch, our turmeric chocolate contains one full serve of our TurmeriX blend. It's a great way to get your fix on the go!
Discover a sumptuous collection of turmeric chocolate bars in Australia
Our turmeric chocolates are the perfect treat if you're looking for a healthy way to indulge and satisfy your sweet tooth. At TurmeriX, we believe that delicious chocolate should also be healthy. That's why we've created and put together our favourite two superfoods — turmeric and chocolate — to create a range of mouthwatering turmeric chocolate bars packed with antioxidants and anti-inflammatory properties. Our range of energising turmeric chocolates offers a great way to boost your nutrient intake and can be enjoyed anywhere at any time. 
We are passionate about providing our customers with the highest quality turmeric products on the market. So, whether you're looking for a healthy snack on the go or a little treat to deliver to a health-conscious friend, you can never go wrong when you reach for our turmeric chocolates. Offering the perfect balance of sweet and savoury flavours, there's no doubt you'll want to add our turmeric chocolate bars to your everyday diet. 
TurmeriX — home to delicious turmeric chocolate bars and more
Looking for more turmeric based products? We've got you covered! Our turmeric capsules come in an easy-to-absorb formula jam-packed with well-known ingredients such as ginger, cinnamon, green tea, fennel and coconut powder. 
Need to add a zing of turmeric goodness to your everyday meals? You can use our turmeric powder to add flavour to your cooking or explore our entire range of turmeric-based products for other ways to enjoy the benefits of this amazing spice. 
For bathroom must-haves, our turmeric soap is a great way to keep germs at bay, and our turmeric hand cream will leave skin feeling soft and protected. Love our entire range but not sure what to take home? Shop and save with our bundle buys — you won't regret it.
Frequently asked questions
Turmeric and chocolate: an antioxidant-rich combination

Turmeric has a variety of health applications, having been traditionally used in Western herbal medicine to support healthy digestion, decrease flatulence, protect the liver, and reduce free radicals formed in the body.Chocolate, meanwhile, has been shown to improve heart health and cognitive function. Both turmeric and chocolate are rich in antioxidants, which help to fight free radicals in the body. When these two healthy foods are combined, they make a tasty and nutritious snack. And clocking just 776 kJ per 45 gram bar, they're waistline-friendly too. While we know that everyone will love the taste of our turmeric chocolate, we recommend keeping these sweet treats for adults, as consumption by children aged under 12 years is not recommended.
For turmeric chocolate bars in Australia, head to TurmeriX

At TurmeriX, we're proud to be one of Australia's leading retailers of turmeric products. Our sustainable biodynamic turmeric is grown in the city of Alleppey, located in Kerala, India, and has a laboratory-verified curcumin level of at least 5% — so you can be confident you're investing in the best. It's free from gluten, and guaranteed not to contain any traces of Sudan Dye. 

Turmeric is our speciality, which is why you'll find everything from turmeric capsules to hand cream and even turmeric-infused soap. Shop our best deals and save money with our bundle buys, and browse the range in person at a store conveniently located near you. Why shop anywhere else?
What are the benefits of turmeric chocolate bars?

Turmeric is a natural superfood that has been traditionally used in Ayurvedic and western herbal medicine to provide anti-inflammatory benefits, support gut health by relieving flatulence, assist with joint stiffness and improve skin moisture levels. 
Where can I buy turmeric chocolate bars in Australia?

At TurmeriX, we stock a range of turmeric products to help you boost your everyday health. Our bundle buys offer great value for money, so you can always get a great deal on our turmeric chocolate bars, capsules, or powdered turmeric for everyday use. 
Does turmeric go well with chocolate?

Turmeric and chocolate may not be the first combination you think of, but these two ingredients pair beautifully together. Chocolate's smoothness acts as the perfect base for turmeric's earthier, subtly spiced flavour. Our dark chocolate and cranberry bars combine pistachios and cranberries into the mix for a turmeric chocolate bar Australia loves.