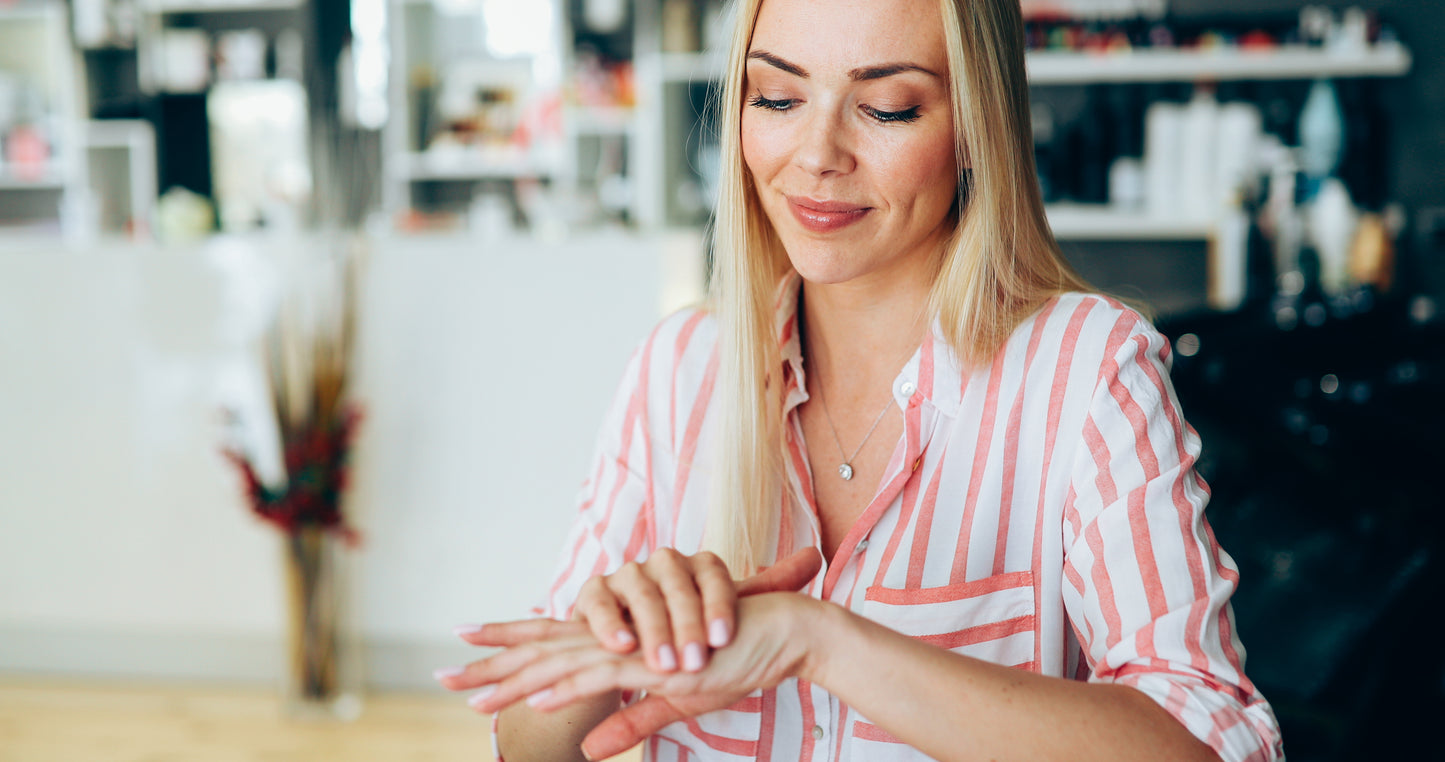 Turmeric-infused Hand Cream
The soothing sensation and alluring scent of our sumptuous turmeric hand cream make this skincare saviour a must-have for people of all ages in Australia. At TurmeriX, we're proud to stock all of your favourite must-have turmeric products, from turmeric powder and turmeric capsules to infused hand cream and soap.
Pamper yourself with our nourishing turmeric cream 
Searching for a turmeric hand cream that will leave your hands feeling moisturised and smooth? Look no further than our best-selling turmeric cream — loved for its super-nourishing, antioxidant-rich formula. This luxurious turmeric hand cream deeply hydrates hardworking hands, leaving them feeling soft, smooth and comfortable. The lightweight texture of our turmeric cream melts into the skin, quickly absorbing without any stickiness, greasiness or unwanted residue. Hypoallergenic, paraben-free and vegan-friendly, this turmeric hand cream is perfect for those with sensitive skin. Trust us when we say your hands will thank you in the long run!
Shop the best turmeric hand cream in Australia
At TurmeriX, we believe that good hand cream is essential to any everyday beauty routine. It moisturises and protects the skin while preventing wrinkles — keeping hands looking supple and healthy. Plus, our turmeric hand cream is rich in natural ingredients and free from nasty chemicals, toxins and dyes. 
Stocking only the finest products, our hand cream online pairs well with our turmeric soap and offers a light and earthy scent and a rich yellow hue that soaks into the skin upon application. Shop the range today to find the best turmeric hand cream Australia loves. 
Looking for more turmeric-infused products?
We also stock sumptuous chocolate bars for a healthy treat that everyone will love, along with turmeric capsules infused with potent ingredients such as ginger, cinnamon, green tea, fennel and coconut powder. Our turmeric powder is perfect for adding to your favourite meals and offers a rich flavour and holistic health benefits. 
Looking for a gift or just want to stock your cupboard with the best spice? Our bundle buys are a perfect choice, so explore our entire collection today!
Frequently asked questions
Our sustainable, biodynamic turmeric cream is a bathroom cabinet staple

You might associate turmeric with cooking, but this antioxidant-rich spice has myriad uses outside of the kitchen. When it comes to healthy, natural and sustainable health and wellness products, turmeric powder is a great solution. Turmeric is derived from the rhizome (root stalk) of the Curcuma longa, a flowering plant that belongs to the ginger family. Traditionally used in Ayurvedic medicine to relieve inflammation, it has a gorgeous deep yellow colour and a light, slightly earthy scent.
Where to buy turmeric hand cream in Australia

The key to finding high-quality turmeric-infused products in Australia? Shopping from sustainable, ethical producers who don't use harmful pesticides or harsh chemicals on their crops. Our turmeric hand cream is made from turmeric grown in Kerala, India, and it has a guaranteed curcumin level of at least 5% — so you know you're getting the very best. Free from nuts, gluten, and guaranteed not to contain any traces of Sudan Dye, our turmeric hand cream is a product you can feel good about using. Are you ready to treat your skin with our luxurious turmeric products? Buy hand cream online from TurmeriX today, or visit us at one of our stores to take the first steps towards your new silky smooth hands in-person. While you're browsing our site, don't forget to check out our competitively priced bundle buys to save money on turmeric cream, turmeric soap and your other favourite turmeric products.
What is turmeric cream?

A rich, hydrating formula for the hands, turmeric cream is infused with natural turmeric's active ingredient, curcumin, for a hand cream that rapidly relieves irritation and dryness while promoting softer and smoother skin. 
Is turmeric hard cream good for skin?

As a natural antioxidant and moisturiser, turmeric hand cream may be suitable for anyone who experiences dry skin, redness or itching. It's easily absorbed without leaving a greasy residue on the skin and will keep your hands feeling soft and smooth even on cold, dry days. 
Can you use the hand cream elsewhere on your body?

TurmeriX hand cream is designed for use on the hands and arms. However, we don't recommend this formula for facial use or elsewhere on the body. You can discover our full beauty range for all body use as well as our hand cream online. 
Can you use the turmeric hand cream daily?

Absolutely. Our effective yet mild formula contains 5% curcumin, making it the perfect soothing balm for everyday use. Whether you want to pick up a tube to keep in the car, or bundle and save with a 20 pack, it's time to start enjoying turmeric hand cream in Australia.