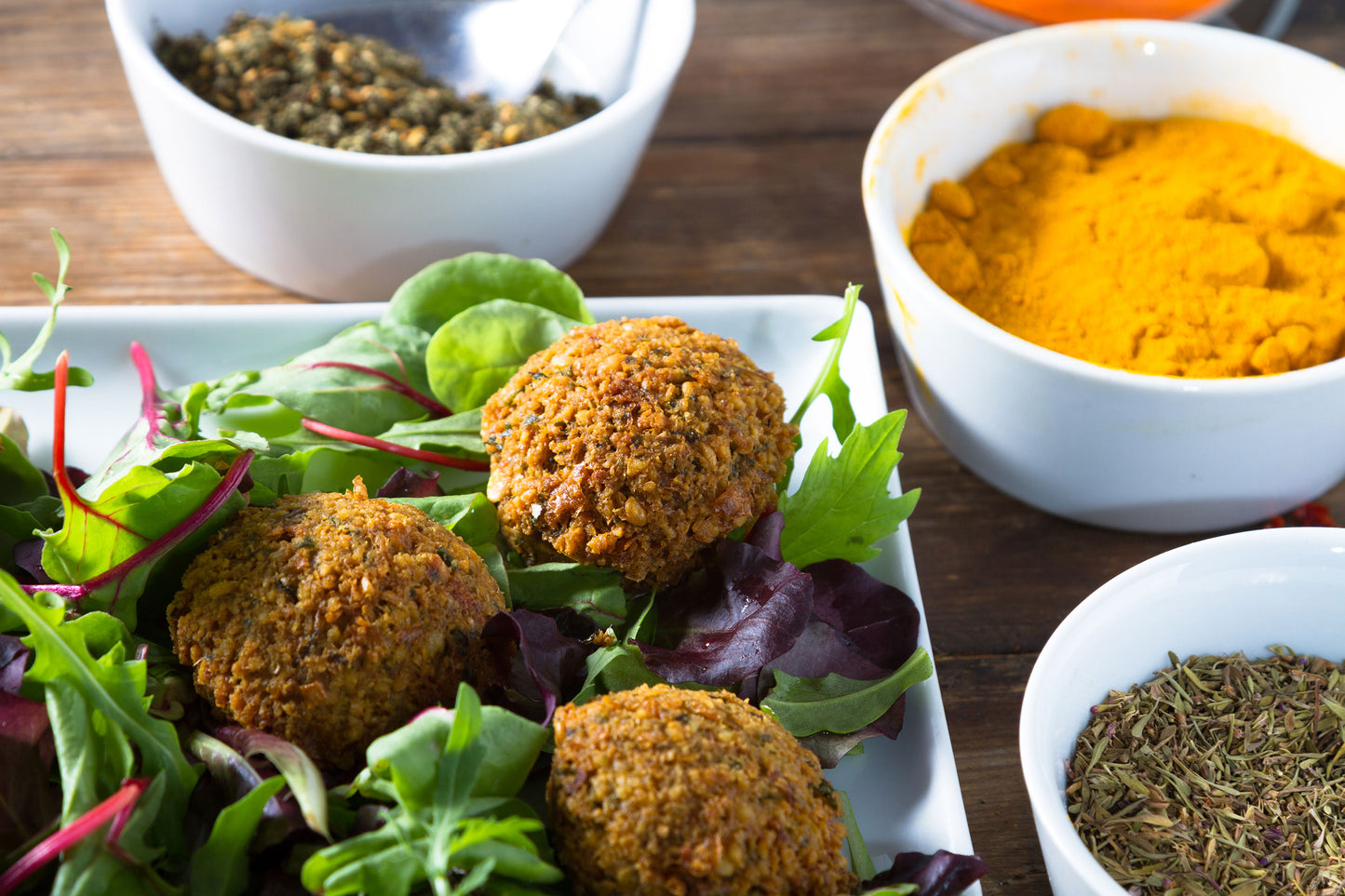 Falafels are a popular vegetarian and vegan option with 100% plant-based ingredients packed full of phytonutrients, protein, fibre, complex carbohydrates, calcium and vitamin C. Turmeric is traditionally used in Ayurvedic medicine for its potent anti-inflammatory and immune-boosting properties. Adding it to your falafel mixture is a delicious way to harness the potential health benefits offered by this golden spice.
Ingredients:
For the turmeric falafels:
1 cup roughly chopped red onion
3 garlic cloves
¼ cup fresh parsley
¼ cup fresh coriander
1 cup green kale
½ cup roughly chopped red capsicum (seeds removed)
½ cup sunflower seeds (can be substituted with nuts or seeds)
2 cans chickpeas, drained and rinsed (dried chickpeas need to be soaked overnight)
2 tsp cumin
2 tsp TurmeriX powder
1 tsp sea salt
¼ tsp black pepper
1 tablespoon lemon juice 
½ cup chickpea flour
Extra virgin olive oil for cooking
For the tahini sauce:
1/2 cup tahini
4 tbsp lemon juice 
1 clove minced garlic
1 pinch sea salt
3 tbsp water
Method:
Add the onion, garlic, parsley, coriander, kale, red capsicum, sunflower seeds, and chickpeas in a food processor. Pulse for about 5 seconds, scrape down the sides, then blend again for five more seconds. Be careful not to over-blend — The chickpeas should be finely chopped but not mushy.


Transfer the mixture to a large bowl, then add the spices, lemon juice and chickpea flour. Stir to combine evenly. If the mixture appears too wet, add more chickpea flour as needed.


Using your hands, scoop out 2 tbsp of mixture, roll it into a ball and pat down slightly.


Warm olive oil in a deep pan over medium heat. Cook the falafel balls for about 3 minutes on each side until light golden brown. Alternatively, you can bake them in the oven at 180 deg for 7 minutes on each side.


Prepare the tahini sauce by combining the ingredients in a small bowl. Slowly add water and whisk until desired consistency is reached.
Wondering what to serve with turmeric falafels? Add your falafels into a whole grain pita pocket and garnish with tahini sauce and cos lettuce for some extra crunch.
Looking for more delicious and healthy recipes? Our
blog
features a collection of recipes that use
turmeric
in creative and delectable ways. Whether you're looking for a new breakfast idea, a healthy snack or a hearty dinner dish, you're sure to find something to suit your taste.