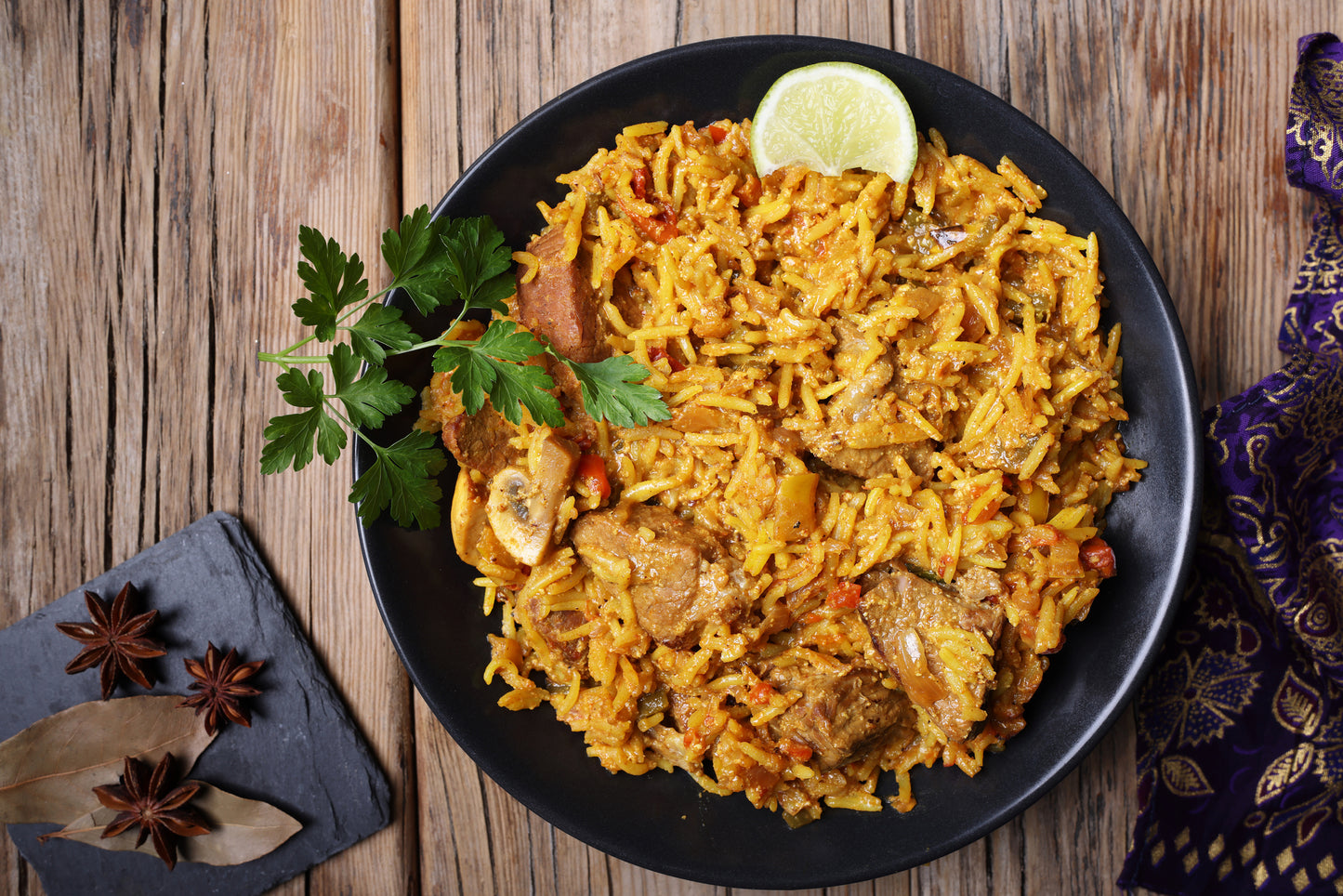 Looking for a quick, healthy, and delicious meal? This easy one-pot turmeric chicken and rice recipe is a simple and flavourful weeknight meal. The chicken is cooked with a variety of healthy spices, and the rice is infused with turmeric for a beautiful golden colour. Plus, everything cooks in just one pan, so cleanup is a breeze.
This one-pot turmeric chicken and rice dish can be served alone or with a salad and other sides for a complete degustation. Simply add the ingredients to the pan, and in less than an hour, you'll have a delicious and healthy one-pot turmeric coconut rice dish that the whole family will love.
Ingredients
1½ cups Basmati rice
2 tablespoon vegetable oil
1 large shallot, finely chopped
2 cloves garlic, finely chopped
6 to 8 skinless, boneless chicken thighs
1 teaspoon ground TurmeriX powder 
½ teaspoon cayenne pepper
2½ teaspoon salt, divided
400ml can of unsweetened coconut milk
½ bunch of greens of your choosing
Method:
Wash the rice until the water runs clear, drain and put aside. 
On a medium to low flame, cook the shallots until golden, add the sesame seeds and garlic, and cook for a minute. Transfer to a plate and set aside.
Using the same pot, add chicken, turmeriX powder and cayenne pepper. Cook until the chicken begins to turn opaque. Then add ¾ cup of water, reduce the flame to a simmer and cook until the chicken is tender. 
Add the rice to the pot along with the coconut milk and salt. Bring to a boil and cook until the rice is light and fluffy.
Once the rice has cooked for 10 minutes, place the greens over the rice, and let the rice cook until completely light and fluffy. Remove from the heat and let the rice sit for another 5 minutes.
Zest the lime, and add to the sesame-coconut mix. Add season to taste. 
We hope you enjoyed this easy one-pot turmeric coconut rice with greens and chicken! Looking for more delectable meals that are easy to whip up? From healthy stews infused with golden turmeric to light, refreshing salads, we have something for everyone. So whether you're looking for a new weeknight dinner option or simply trying to shake things up in the kitchen, check out our blog for some much-needed inspiration.