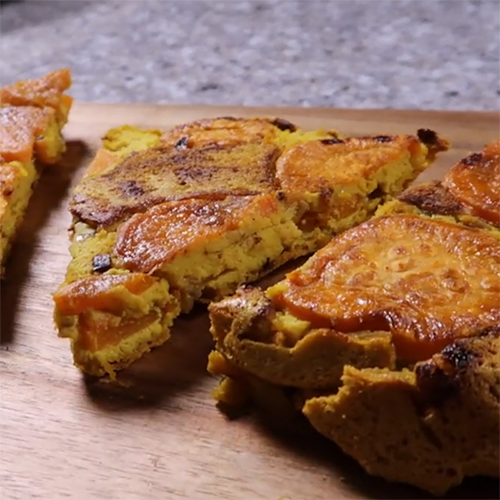 Ingredients:
1 red onion finely chopped
2 garlic cloves finely chopped
500 grams firm tofu cubed
¼ cup cornstarch
¼ cup nutritional yeast flakes
1 teaspoon TurmeriX
¼ cup water
Salt, to taste
1 sweet potato sliced into very thin rounds
Method:
Preheat oven to 190˚C.
Heat pan on high heat and add onion and garlic.
Add a little water and sauté onion until soft.
Place tofu in food processor with cornstarch, nutritional yeast, TurmeriX and ¼ cup water, and puree to paste.
Add chopped onion to bowl and add tofu blend.
Add salt to taste and mix well.
Layer sweet potato rounds and tofu mixture in spring-form cake tin lined with baking paper.
Place in oven and cook for 45 minutes until outside of frittata is firm and crispy.
Serve with fresh salad