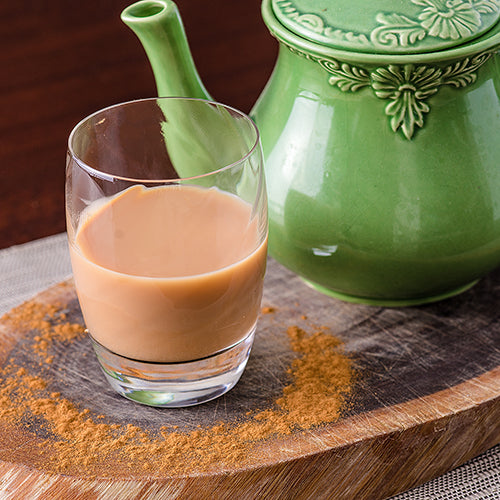 INGREDIENTS:
Chai mix:
5 cardamom pods
5 cloves
2 cinnamon sticks
2 cm piece of ginger, finely diced
½ vanilla bean sliced lengthways & chopped
1 tab TURMERIX
2 bags Ceylon tea
DIRECTIONS:
In a spice grinder or mortar & pestle grind up spices & contents of tea bags
Place in bowl or 1 litre measuring jug
Bring kettle to a boil & leave to cool for 3-4 minutes
Pour 1 cup hot water into the jug & add the honey & stir, let stand for 10 minutes
Add 1-2 cups of soy milk to the jug (according to taste) & stir, let stand till cool
This is your chai tea, it  can be kept in the fridge for a few days if needed. Bear in mind the longer it stands the stronger it will become. To serve strain required amount into a small pot over low heat but do not boil. Serve at around 75 to 80 degrees.