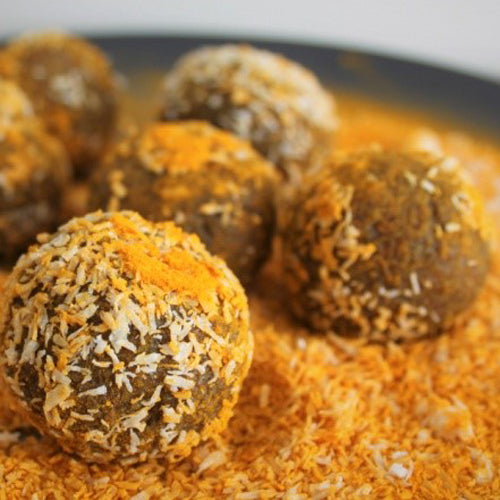 Ingredients
1 cup Pepitas                                                               1 cup Almonds*
10 Medjool Dates                                                      1 cup Currents/sultanas
1⅓ cups Cacao (cocoa powder is fine: but use a good one, preferably unsweetened)
2tbsp Honey                                                                3 tbsp Coconut oil
1 tsp Vanilla essence                                                   1 tsp salt
2 tbsp TurmeriX
Extra fine desiccated coconut and TurmeriX to roll the balls in.
Method
Blitz the pepitas and almonds in a blender until roughly chopped then put into a mixing bowl.
Add the cacao, TurmeriX and salt, stir thoroughly.
Put the pitted dates and currents/sultans into blender and give a quick blitz to mix. Add to the mixing bowl. If you are using dried dates, add a few extra and soak in warm water first.
Melt the coconut oil and honey, then add the vanilla. Add to the rest of the ingredients and stir thoroughly.
Using your hands form into small balls. (Note: avoid hand stains by wearing disposable gloves!!) You will get approx. 12 golf ball sized bliss balls However, the size depends on how decadent you're feeling!
Roll in the desiccated coconut and TurmeriX mix, to cover. If the coconut mix won't stick use a little coconut oil on the balls.
Enjoy. Don't expect them to last long as they will get eaten, they are very rich and moreish. If you have any left, they can be stored in an air tight container in the fridge for a few days.
Note: If you used chocolate flavoured protein powder instead of the cacao, 2 TurmeriX bliss balls would make a great alternative to breakfast, or as an energy snack.
* You could use other nuts such as cashews, peanuts, walnuts – or even a mix of different nuts, whatever you fancy really. 2 bliss balls (golf ball sized) = 1 daily serve of Turmerix.