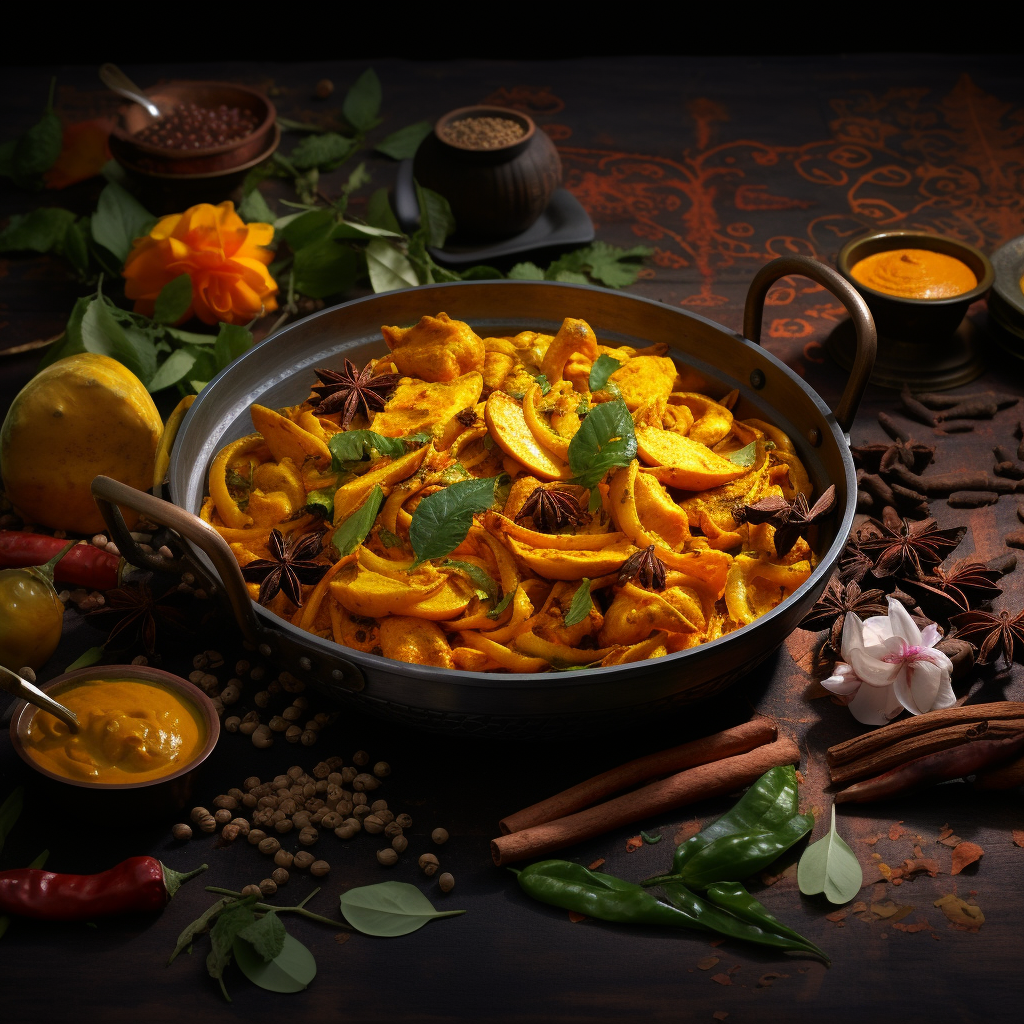 A core ingredient in many dishes, Indian turmeric plays an indispensable role in the formation of delectable food. The versatile nature of ground turmeric allows it to be easily incorporated into virtually any recipe — from pulses to rice and proteins, this ancient spice adds a distinct flavour that epicures love from around the world.  
Traditionally used in Ayurvedic medicine, turmeric is hailed as a wonder spice and is said to support digestion, immunity and inflammation. Given its potential health benefits, including ground turmeric in your diet is a simple and delicious way to promote better well-being.  
If you're looking for ways to incorporate Indian turmeric into your daily diet, our blog contains several delicious recipes and tips for using this versatile spice. You can add turmeric to soups and stews for a flavorful boost or use ground turmeric as a rub for meats and vegetables. You can also make a simple turmeric tea by steeping the spice in hot water with honey and lemon.
Turmeric — the Indian spice that takes your cooking to the next level
Indian turmeric finds its origins in the ginger family and is sourced from the rhizomes of a perennial plant native to Southeast Asia and the Indian subcontinent. Although the spice is often consumed fresh, turmeric powder created from the dried rhizomes is one of the easiest ways to use the spice for culinary purposes.
Without turmeric, Indian curries wouldn't achieve the distinct flavour and colour that sets them in a class of their own. This potent spice's aroma profile is described as earthy and warm, with hints of pepper and mustard-like notes that are slightly bitter. The intense golden hue of this spice adds a beautiful richness to any dish, although it's best to be cautious when handling ground turmeric as it can stain your fingers. It's recommended to use Indian turmeric in small doses as the spice can easily overpower other ingredients. 
You can use ground turmeric powder in the following ways:
Give soups a boost of zingy flavour by adding one to two teaspoons of

Indian spice turmeric

into the recipe. Not only will it taste better, but it will become more nutritious.

Adding

turmeric to chicken soup

transforms the dish from good to extraordinary. 
A dash of

turmeric on chicken

adds depth and warm flavour, turning your dish into a gastronomic feast.

Turmeric chicken curry

is incredibly easy to create and adds an extra zing that is wholesome and distinct.

Turmeric on chicken

is a delicious and healthy option for a hearty weeknight meal. 
Add some golden goodness to your rice-based recipes by incorporating a teaspoon of

ground turmeric

. The pop of colour, which is reminiscent of the golden sun, creates a visually appealing touch to any table. Or try making biryani, which is a rice-based dish typically served as a main course. It originates from the Indian subcontinent, often made with lamb or chicken. Turmeric lamb biryani is a variation of this dish that uses

Indian turmeric

as one of its key ingredients. The result is a fragrant, flavourful, and nutritious meal.
Craving for eggs with a difference? You need to try turmeric scrambled eggs — a popular feature in many Indian breakfast dishes. All you need to do is whisk together the eggs, turmeric, salt, and pepper. Cook until the eggs are firm, and serve with toast. 
Kulfi is a frozen dessert and a must-have treat for Indian summers. Kulfi is made by freezing flavoured milk. Traditionally, kulfi is made with whole milk that has been simmered until it is thick and creamy. Turmeric kulfi is a variation of this traditional dessert and features the famous

Indian spice — turmeric

. This spice gives the kulfi a beautiful golden colour and a subtle flavour that complements the other ingredients. Turmeric kulfi is a refreshing and decadent treat that will delight any palate.
Ground turmeric

can also be added to a wide range of drinks. If tea is your beverage of choice, you can add a unique and delicious twist by turning it into chai, a refreshing spiced tea from India. Whip up a frothy chai latte from the comfort of your home with a few simple and easy-to-source ingredients. All you need is milk, your favourite tea, our TurmeriX powder, and a natural sweetener such as maple syrup or honey. Steep the tea in milk, add the powder and maple syrup or honey, and whisk to create a frothy top — trust us when we say you're in for a mouth-watering treat that'll leave you wanting more.
TurmeriX — your one-stop shop for the best good-for-you products
At TurmeriX, we're proud to be one of Australia's leading retailers of products that contain pure turmeric. Our sustainable, biodynamic turmeric is grown in the beautiful city of Alleppey, located in Kerala, India. We strictly monitor all stages of our production process to ensure that our products are of the highest quality and potency. 
Our ethically sourced selection of turmeric powder, capsules, and other turmeric-based products is perfect for all your culinary and wellness needs. From soap to indulgent hand creams and healthy chocolate bars, you're bound to find something that'll become your new favourite.
If you have any questions or concerns regarding our products, contact us, and we'll be happy to help.