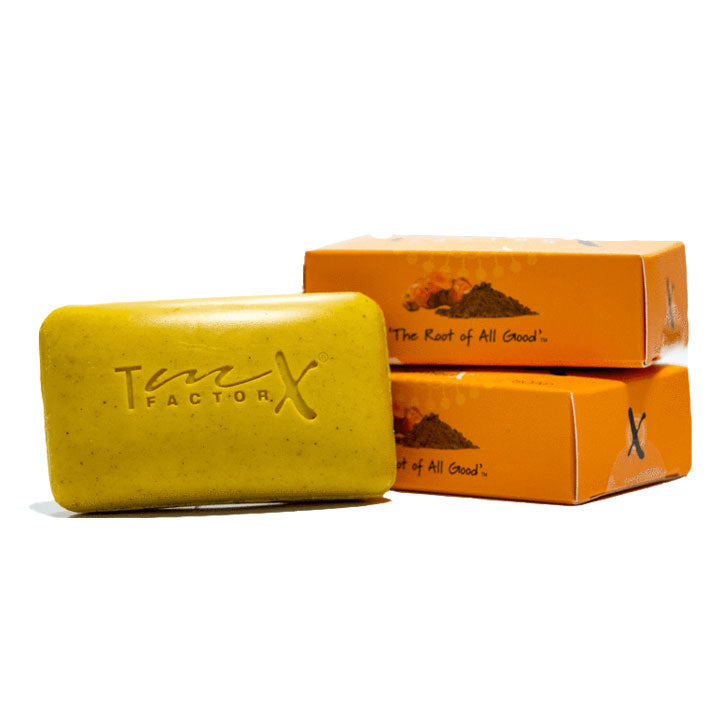 Traditionally used in ayurvedic medicine, turmeric has gained popularity for its potential healing properties and many positive benefits. Given that classic soap often contains harsh synthetic ingredients, it's little wonder why turmeric soap is preferred in many households and loved for its possible health-boosting attributes.
At TurmeriX, we are proud to present one of the best turmeric soaps free from unfavourable ingredients and gentle enough to be used on even the most sensitive skin. Here are some of the potential advantages that come with adding our turmeric soap into your daily routine:
May provide relief from skin inflammation


Skin inflammation is a condition caused by various factors, including stress, infections and allergies. The symptoms of inflammation include redness, swelling, and pain. In some cases, the skin may also feel warm to the touch. While inflammation is not a severe skin condition, it can be very uncomfortable. Treatment for skin inflammation typically involves using anti-inflammatories which help reduce these symptoms by suppressing the inflammatory response.

Traditionally used in Ayurvedic medicine to relieve inflammatory conditions, turmeric is a powerful natural remedy that may assist in alleviating the severity of symptoms. Most of the classic Aussie soap you find at your local grocery store does not contain anti-inflammatory properties and consequently does not provide a host of valuable benefits to the skin.

Our turmeric soap is packed with turmeric grown in the beautiful city of Alleppey, located in the southern part of India in the state of Kerala. It contains other gentle, natural, and highly effective ingredients. It's fragrance-free and does not contain any toxins, chemicals and additives that may increase the severity of inflammation.

It may help with clearing acne breakouts


Acne is a common skin condition that affects people of all ages. Often, it's related to changes in hormone levels, bacteria clogging up pores, and inflammation. Genetics may also play a role, as acne tends to run in families. Acne can occur on the face, neck, chest, back, and shoulders. It usually appears as blackheads, whiteheads, or pimples.

Try using our turmeric soap the next time you deal with a breakout. Traditionally used in Western herbal medicine for its antioxidant and antiseptic properties, our soap may help remove bacteria and pollutants that cause acne. In addition, turmeric helps to control the oil balance of your skin. Your pores may also appear clearer, as bacteria cannot get stuck inside them. If you use turmeric soap regularly, you may see fewer breakouts on your face and body.

It may help reduce scars and spots


Turmeric soap is an excellent way to get the benefits of turmeric without having to prepare a paste. The soap may help to reduce blemishes, dark spots, acne scars and uneven skin tone.

Generally speaking, classic soap from the supermarket does not contain a range of natural, skin-loving ingredients that can help get rid of pesky spots. With this in mind, we've created one of the best turmeric soaps on the market to target and reduce the appearance of these skin concerns.

Unlike classic Aussie soap, which contains harmful and unnecessary toxins, our turmeric soap combines turmeric and other natural ingredients that help to soothe the skin and provide additional benefits.

For the best natural results, use our turmeric soap twice daily, in the morning and evening. You should start to see a difference in the appearance of your skin within a few weeks.

It may help hydrate parched skin


As we age, our skin begins to lose its natural elasticity. This can cause a number of problems, including wrinkles, sagging skin, and dryness. Fortunately, there are some ways to combat these effects of ageing. One of the most effective ways is to use a moisturising soap and a soothing face wash. Although classic soaps can help remove dirt and oil from the skin, some are harsher than others. Many classic Aussie soaps contain surfactants that can strip the skin of natural oils, making it feel dry and tight.

With this aspect of classic soap in mind, we created the best soap infused with turmeric — a spice traditionally used in western herbal medicine, and our turmeric soap has been designed to clean without stripping moisture or disrupting the delicate balance of your skin's natural barrier.

In addition, our turmeric soap contains several other nutrients, essential vitamins and minerals. So, if you're searching for the best turmeric soap that will leave your skin clean and soft with every wash, look no further than our turmeric soap.
Buy the best turmeric soap from TurmeriX today
When it comes to weighing up the benefits of turmeric soap, it's easy to see why our product is considered the ideal alternative to a classic soap bar. Our soap formula is made with natural skin-loving ingredients and is free from synthetic toxins, harmful chemicals and additives — making it suitable for those with sensitive skin.
So, if you are looking for an all-natural way to cleanse, refresh and care for your skin, shop our best-selling turmeric soap online today. While you're here, don't forget to browse our complete collection of turmeric-infused products. If you have questions, simply contact us, and we will be delighted to help you in every way we can.