What can TurmeriX® do for you ?
If you're reading this, chances are you are wondering, Will Turmeric supplements help me ?
Do you struggle with chronic arthritis or experience sore knees?
Are you curious about the health benefits of Turmeric?
You might be wondering, does Turmeric really work to reduce inflammation?
You might be an athlete looking for a natural edge for recovery and muscle repair?
You want to know What's the best Turmeric supplement?
Or What is the most effective way to take Turmeric?
Perhaps you're just searching for a simple way to improve your overall health?
Customers often come to us with their own unique circumstances and questions, but they all boil down to a common statement:
"I've heard that turmeric can help improve my health, but does turmeric really work ? and Which is the best turmeric supplement?"
You have a unique body and unique circumstances.
If you are taking medication, we always recommend consulting your doctor first.
But If you imagine yourself effortlessly climbing a flight of stairs.
Playing with kids like a kid yourself.
A fast recovery and back to normal from an injury, and most importantly moving through life pain free.
If you are interested in hearing how thousands of happy customers have improved their lives with TurmeriX®
....Read a little further and allow us to share our story.
-Errol McClelland - Founder TurmeriX
"In late November 2012, I had an operation on the inside of my left ankle. The middle tendon was removed and my ankle put into a plaster cast. I was sent home with very specific instructions for rehab over the next 12 weeks.
When the plaster cast was removed the swelling around the ankle area was quite significant. The surgeon affirmed this was normal and would resolve itself over the coming weeks.
Two and a half years later the problem of swelling had NOT resolved itself and my foot was still a mess. The pain from pressure on the nerves was excruciating to say the least.
"I needed to find a solution for this inflammation and pain. I couldn't spend the rest of my life on medications and I had to regain control of my life."
At this point I decided that I would look to find a solution myself.
I started researching natural anti-inflammatories online, then started visiting natural product shops and talking with therapists.
My research continually pointed out Turmeric as the best potential product.
Then I trialed a variety of natural anti-inflammatory products with limited or no result?
What I learned from six months of research and tests was that there are a lot of products that although on the surface look ok, they still don't work well.
In fact a number of them just simply can't work with the combination ingredients they are using.
The underlying reason I found was that the quality of the ingredients within the products were generally very poor.
With this knowledge I set about gathering all the best ingredients that I could find.
The best Turmeric comes from "Kerala" in the very south of India, the black pepper from Sri Lanka, and so on.
Once assembled, I then blended a first mix using all the knowledge from my research, tests, and therapists. This became what we now call TurmeriX®.
I started taking 1 heaped desert spoon in the morning, on the 4th day I thought that my shoe was a little less tight, but put it down to wishful thinking.
Day 5 the shoe was definitely a little sloppy and the laces needed to be pulled in tighter.
Buoyed by this and being a good boy, I thought if 1 desert spoon was working well, 2 spoons a day would be twice as good, so I went to 2 spoons a day.
On day 11 my foot was all but back to normal and most importantly the terrible pain I was in had now become minimal.
Unbelievable, after all that time, pain, inconvenience, getting around on a knee scooter and it was over!"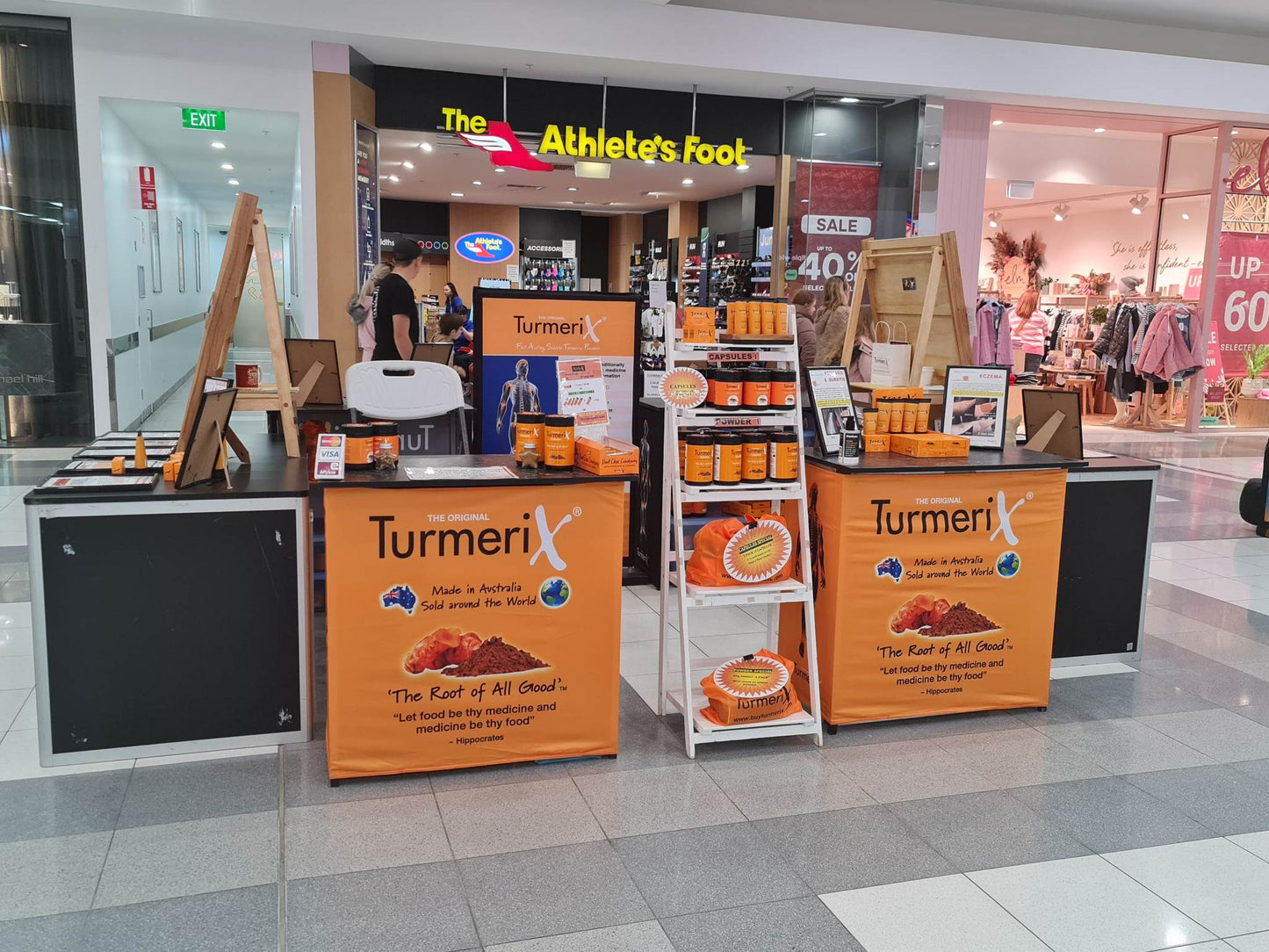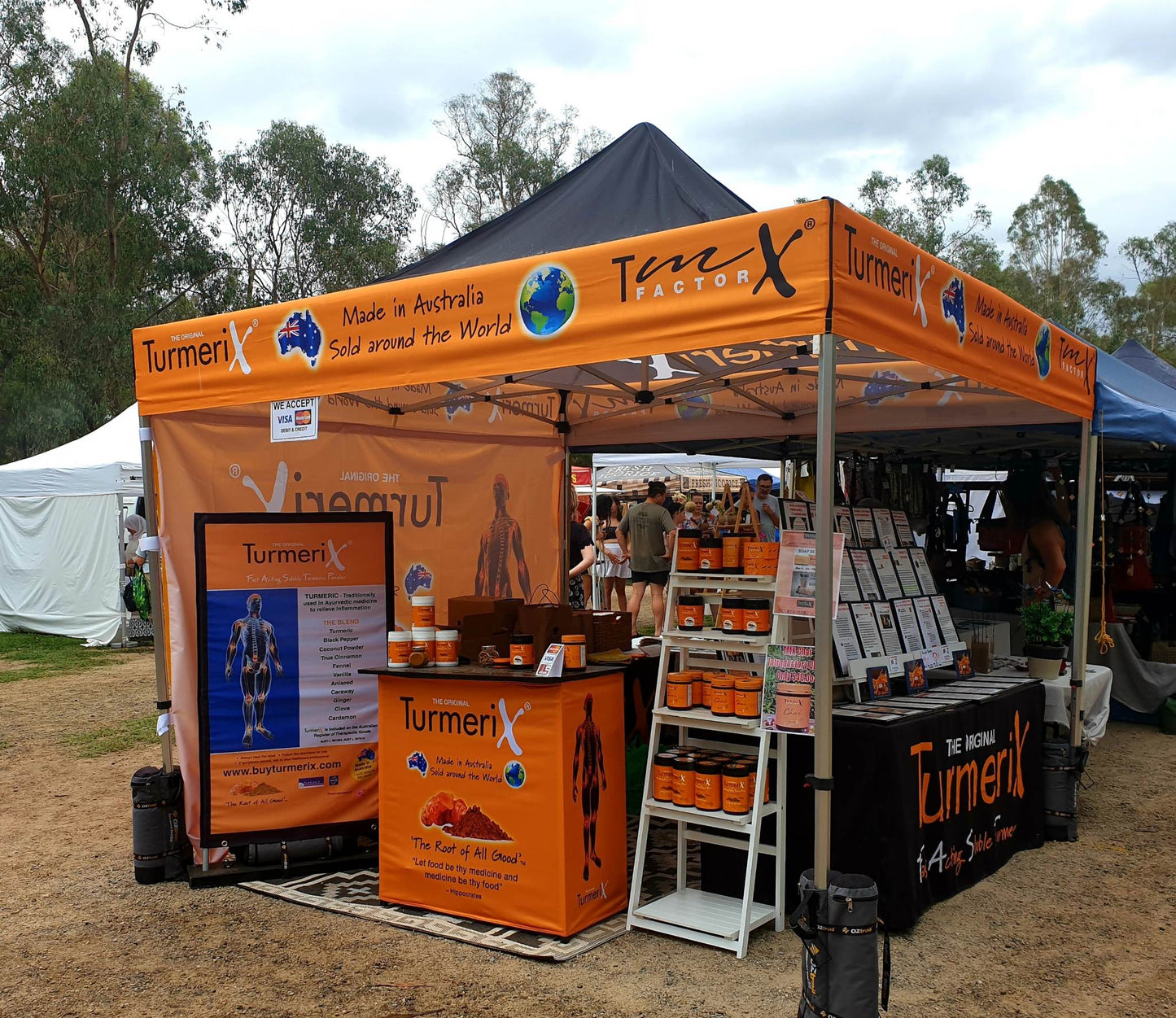 Countless people have searched for a natural way to combat inflammation, wondering if such a remedy exists.
They've shared their stories with us, expressing their disbelief at the transformation they've witnessed.
"I never thought I would be able to move like this again"

exclaims one of our satisfied customers, their voice filled with joy.
"Bought this yesterday, started taking 1 teaspoon with warm water morning and night, has already started easing my aches and pains. Looking forward to being pain free soon"

Sandra Walshaw
"This has literally changed my life!"

Simone S.
Heartwarming messages like these pour in, reinforcing the impact of TurmeriX® in people's lives.
Customers return, eager for more, and passionately recommend TurmeriX® to their friends,
knowing firsthand the difference it can make.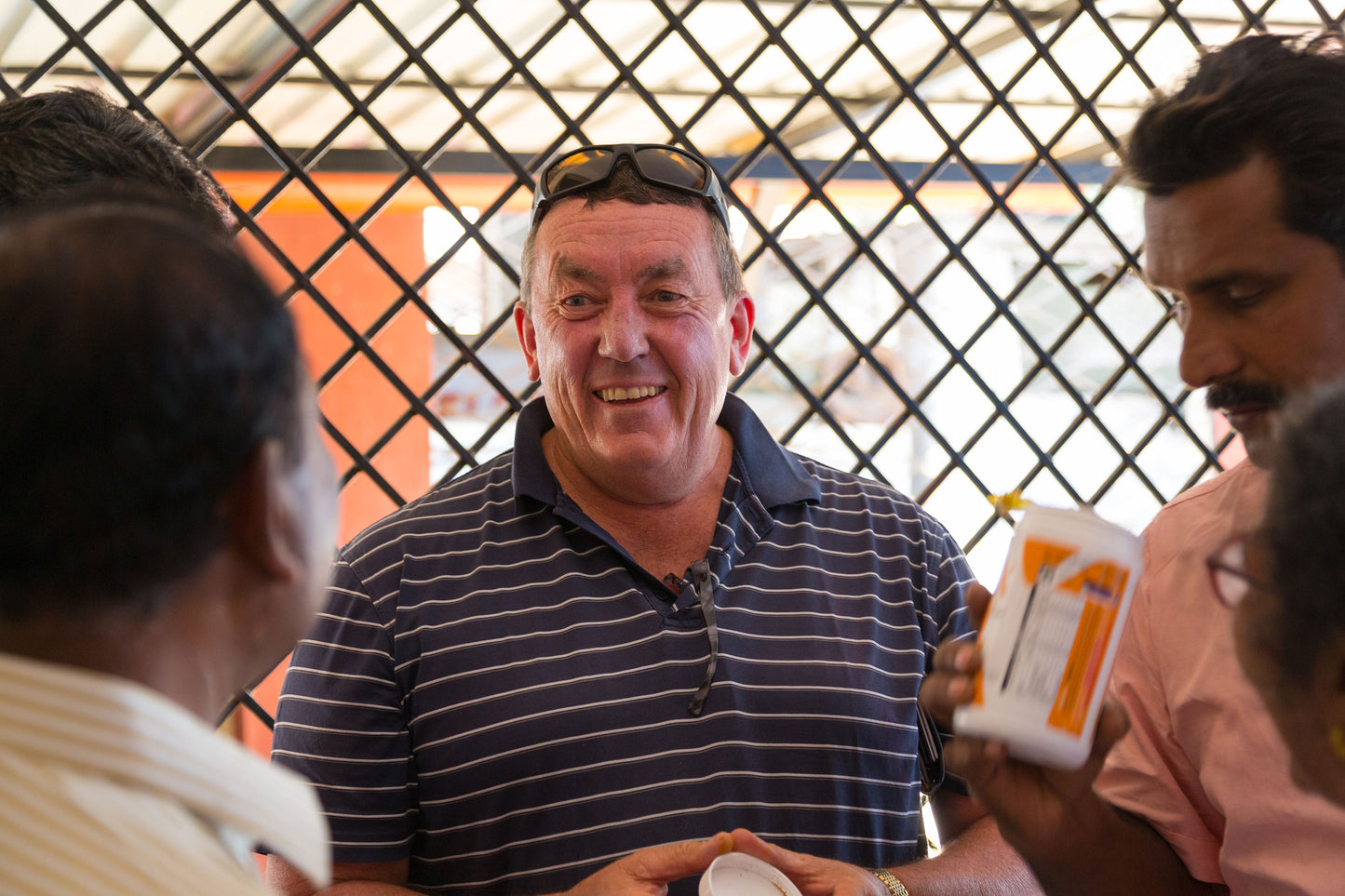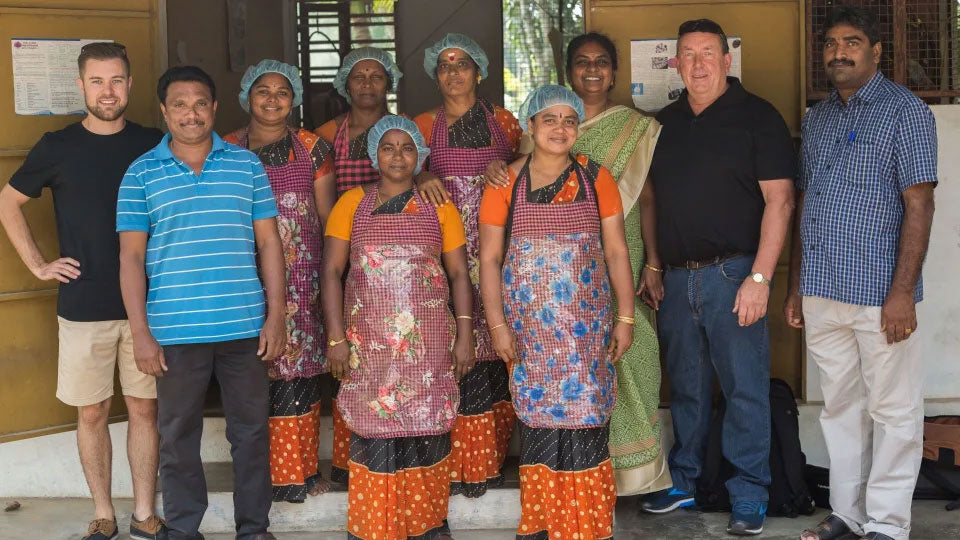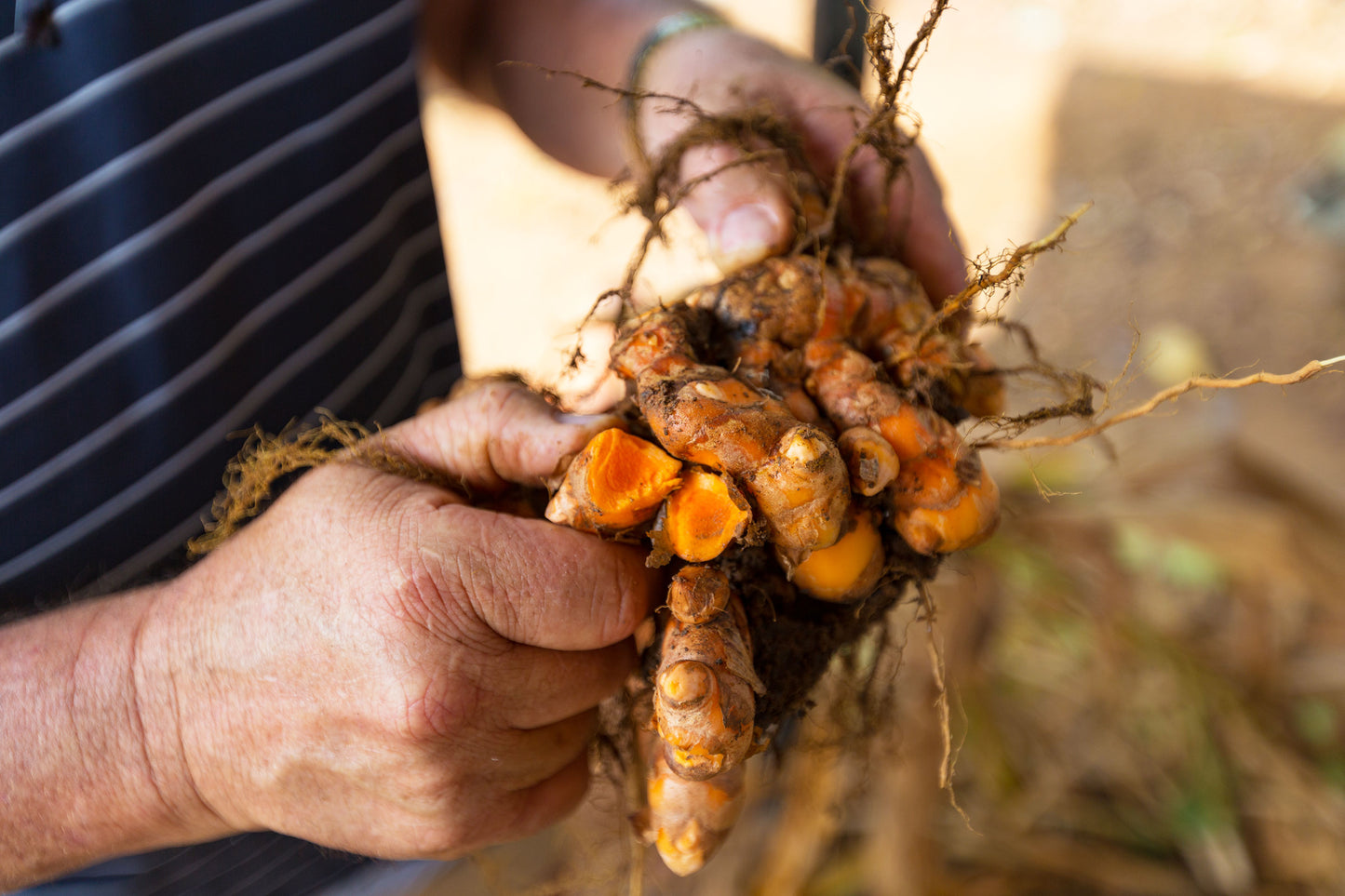 Errol's mission to develop TurmeriX® started with hundreds of hours of research.
"In the early days, my hands were stained a deep burnt orange from mixing and packaging the TurmeriX® formula," he recalls.
"I spent countless hours researching the effects of Turmeric and its promotion of health, experimenting with different combinations and refining the amounts for my own healing.
Sourcing the finest Turmeric in the world from Kerala, India.
I wanted to see it for myself so I booked a flight to India.
I traveled to Kerla and learned that the Turmeric grown there was done on small family farms that have cultivated Turmeric for generations."
Using this world-class Turmeric as the foundation for the TurmeriX® formula, Errol brought it back to Australia for the final blend.
This high-quality ingredient contains a 680mg of Turmeric necessary for the remarkable health benefits of curcumin.
The second key ingredient in our formula is black pepper, known for aiding the body's absorption of curcumin from Turmeric.
TurmeriX® versatile powder is designed to be used in drinks, smoothies, milk tea, delicious recipes, and baking.
What makes our blend truly exceptional is the carefully selected combination of The X-Factor ingredients.
Black Pepper
True cinnamon
Coconut powder
Fennel
Vanilla
Aniseed
Ginger
Clove
Cardamom
These all work together to create a symphony of flavors that not only improve effectiveness but also infuse your meals with a sense of joy and culinary delight.
Our Original TurmeriX Powder
Recognizing the importance of convenience, we introduced TurmeriX® capsules as a convenient way to incorporate turmeric into your daily routine.
Designed with busy individuals in mind, these capsules ensure effortless consumption and provide an easy way to track your progress on the path to better health.
The TurmeriX® product line has ventured beyond supplements alone, offering a range of additional products tailored to your needs.
Indulge in our TurmeriX® Chocolate Bars, crafted with the same commitment to quality and health benefits.
Elevate your skincare routine with our TurmeriX® Skin Care line, harnessing the natural properties of turmeric for radiant and nourished skin.
"Oh, I tried Turmeric, but it doesn't work,"
Is something Errol sometimes overheard as people passed by his booth at markets.
This was difficult to hear, because he knew that they had probably tried a low quality mass produced product.
He knew that TurmeriX® did indeed help.
He had personally experienced its benefits and witnessed thousands of happy customers who achieved incredible results.
He wondered if people had missed out on transforming their lives simply because they were sold something that wasn't designed to truly help them.
Turmeric is renowned as one of the best natural anti-inflammatory substances worldwide, utilized in traditional medicine for thousands of years.
Errol understood that not all supplements are created equal. Some large brands may offer diluted products produced in distant factories, while others may have overlooked the essential research on curcumin absorption.
Although he couldn't control what other brands sold, he ensured that he offered the best Turmeric supplement he could create.
From the early days of market sales, Errol holds the memory close to his heart.
Seeing customers return with a newfound spring in their step, ready to restock their TurmeriX® or simply share a friendly conversation, fuels his passion.
The stories of transformed lives continue to inspire us.
Witnessing customers move with greater freedom, sporting smiles of satisfaction, and eagerly sharing their personal triumphs reinforces the foundation of TurmeriX® as a trusted and thriving international company.
While TurmeriX® has expanded its reach, and today is an internationally distributed product across North America, Europe, and Asia; Errol remains deeply connected to its grassroots philosophy.
He travels across Australia, spanning from Bendigo to Brisbane and Melbourne to Perth, to meet customers personally and hear their remarkable stories.
TurmeriX® - The root of all Good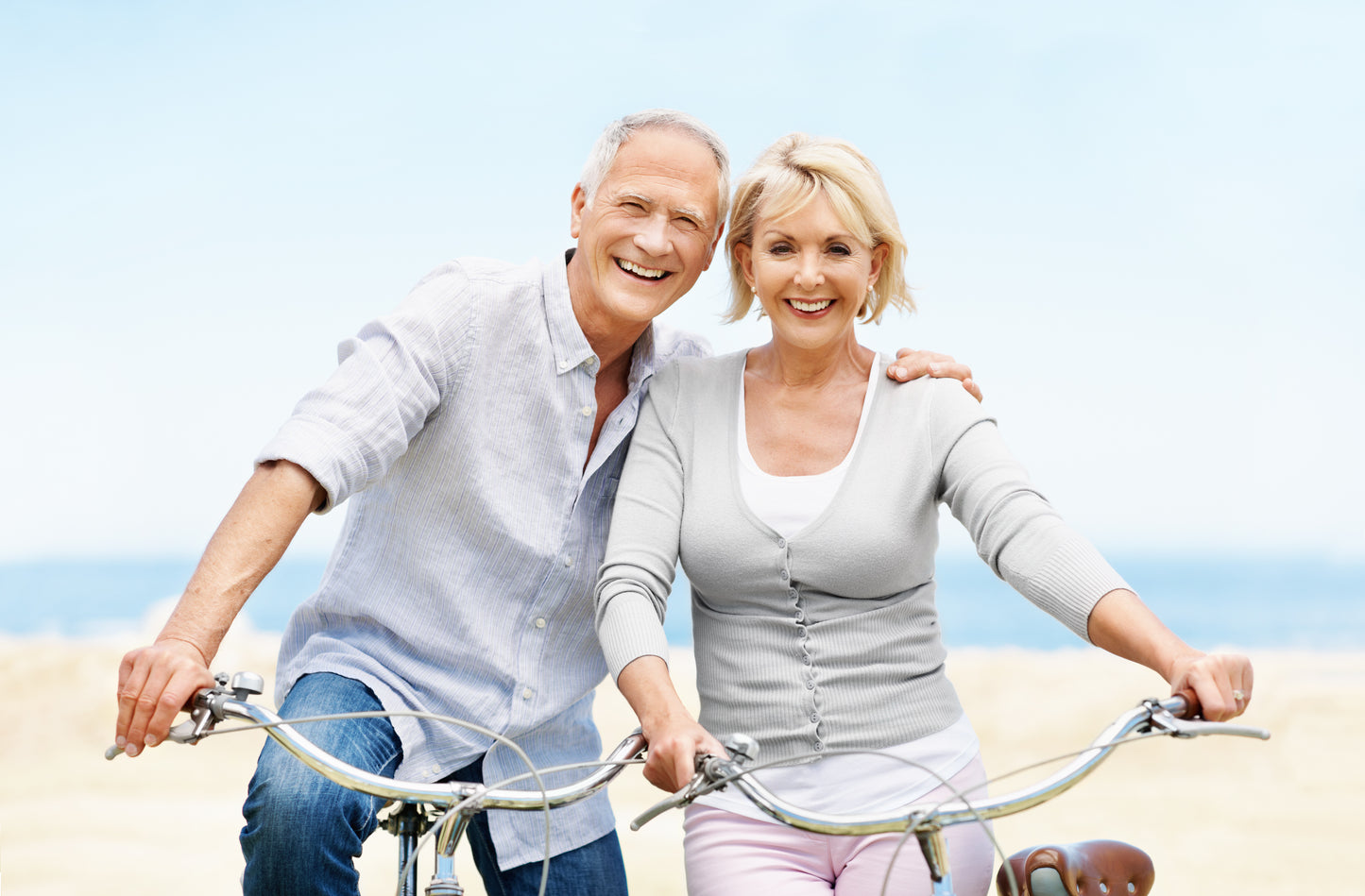 Our Mission
TurmeriX offers our customers the choice to use a natural product. Our product is like no other in the market. Our TurmeriX customers love to tell us about their experiences and many refer family and friends. We love seeing messages telling us how they feel great. Many share that they've been "getting back into activities [they] never thought possible." We designed TurmeriX to be simple to consume and get on with your day. If you have a story you'd like to share, send us a message! We want people to know that they have a choice to use a product that is traditionally used in Western Herbal medicine to relieve inflammation.