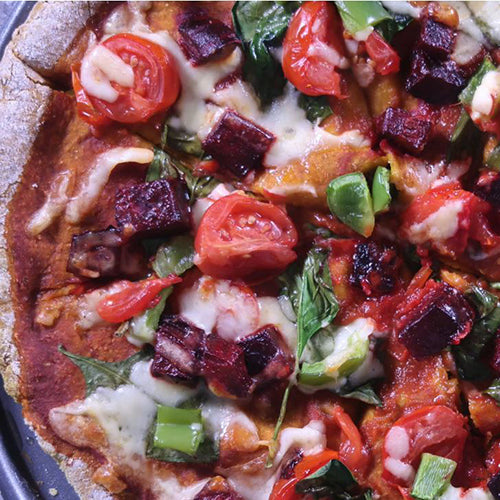 TurmeriX Pizza Crust
Finely dice 1 beetroot, toss in olive oil, season and bake for 20 - 30 minutes. Meanwhile combine;
1 cup Greek yogurt
1 cup wholemeal SR flour
20g TurmeriX
Pinch of salt
Mix until this comes together.
Roll out dough between 2 slices of lightly greased baking paper, dusting with additional flour as required.
Bake for 20 minutes.
Remove from oven and top with your favourite toppings. We've used passata, baby spinach, cheese, roasted beetroot, capsicum and cherry tomatoes.
Bake for an additional 15 - 20 minutes or until cheese is golden.
20 grams in the recipe meaning each slice has approximately 2.5grams TurmeriX.
Therefore 1 slice is one serve of TurmeriX