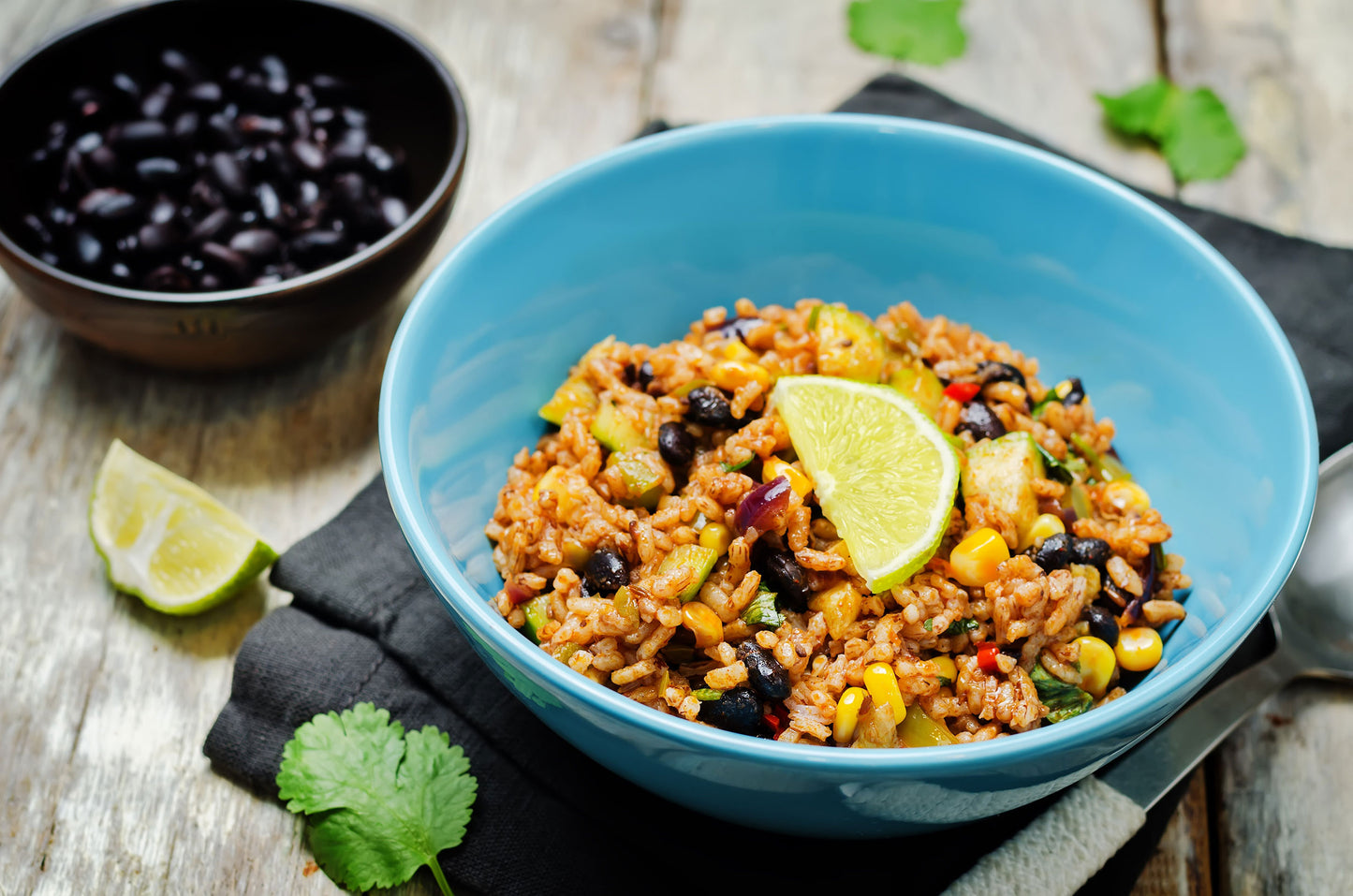 Ever wondered how to make rice with black beans? Try this delicious, fresh and healthy recipe for turmeric rice with black beans. This meat-free meal incorporates adequate amounts of protein and aromatic spices, creating an irresistible combination of black beans and rice to satisfy your tastebuds. Plant-based foods are naturally high in fibre and phytonutrients, perfect for supporting your health and appetite. Try this quick and easy black beans with rice recipe and enjoy a satisfying meal you'll want to make time and time again.
Ingredients:
1 tbsp olive oil
1 cup chopped green capsicum
1 cup chopped red onion 
2 garlic cloves, minced
2 cans black beans, rinsed and drained 
2 cans diced tomatoes
1/2 cup water
1 tbsp fresh lime juice
2 tbsp lemon juice
1/2 tbsp ground cumin
1/2 tbsp ground TurmeriX powder 
3 cups cooked basmati rice
100g goats feta cheese
Method:
Place olive oil in a medium size pot over low heat. While stirring, add onion, garlic and capsicum and cook for 3-5 minutes. Add the black beans, tomatoes and water and cover with a lid to simmer for 8-10 minutes. Add the lime and lemon juice and stir through.
In a separate medium-sized pot, cook basmati rice according to packet instructions. After draining the rice, place it back into the pot, add the cumin and TurmeriX powder and stir through. The rice will turn into a beautiful golden yellow.
Place a medium-sized scoop of turmeric rice in a bowl, followed by a large scoop of the black bean mixture. Add the finishing touches by crumbling vegan cheese over the top.
Love our black beans and rice recipe and looking to create more easy-to-prepare dishes?
You'll find plenty of delicious recipes on our
blog
. Adding turmeric to your diet allows you to reap the benefits of this superfood in a wholesome and nutritious way. Explore our
entire collection
of organic and pure turmeric-based offerings today to add to your weeknight meal rotation.