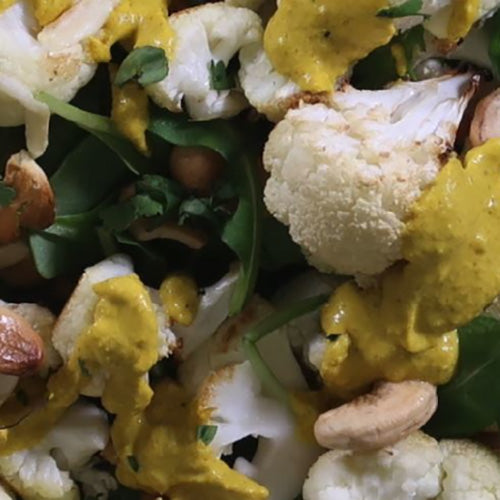 Ingredients
1 small cauliflower cut into small florets
Handful raw cashew nuts
2 large cloves garlic
Extra-virgin olive oil
2 handfuls greens (baby spinach, rocket)
Small handful coriander roughly chopped
TurmeriX Dressing
½ cup cashews, soaked overnight or minimum 3 hours
1 tsp TurmeriX
Juice ½ lemon
¼ cup water (add a little at a time until you get consistency you want)
Method
Preheat oven to 180˚C
Line baking tray with baking paper
Place cauliflower, cashews and garlic on tray and drizzle with a little olive oil.
Place in oven to bake 25 mins, or until cauliflower starts to go golden-brown.
To make dressing, drain cashews and add roasted garlic and all dressing ingredients to blender and blend until well combined and smooth.
Arrange greens, cauliflower, and roasted cashews on serving plate and drizzle with TurmeriX dressing and top with coriander