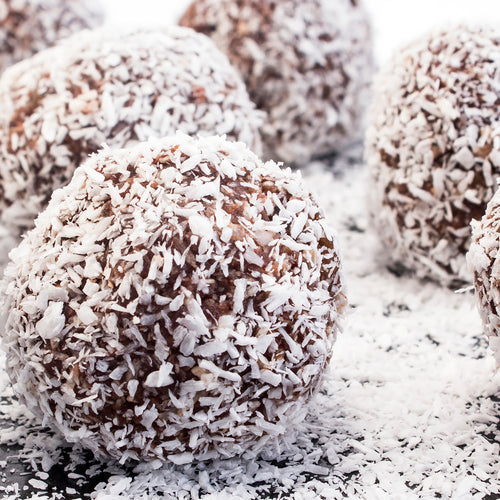 RAW CHOCOLATE BALLS (enhance good mood) 
These bite-size treats pack a nutritional punch. Mood-enhancing raw cacao is high in antioxidant flavonoids that ward off illness and infection.
Combined with coconut oil for a stronger immune system, metabolism and digestive system, and sweetened naturally with dates, they're a perfect mid-morning or afternoon snack to curb your appetite.
Ingredients
- 4 large Medjool dates, pits removed and chopped
- 2 tbs coconut oil
- 1/2 cup raw almonds, finely chopped
- 2 tbs raw cacao powder
- 2 tbs cacao butter
- 2 tbs shredded unsweetened coconut
- 1tsp TurmeriX
Method
Place dates in a blender and mix to a paste. Heat coconut oil in a pan over low heat, until melted. Add to blender with almonds, cacao powder and butter and mix. Place in a bowl. Wet hands with water and roll teaspoons of mixture into balls, then roll in coconut. Set in the fridge for 1 hour. Store in an airtight container in the fridge for up to two weeks.
Makes: 10