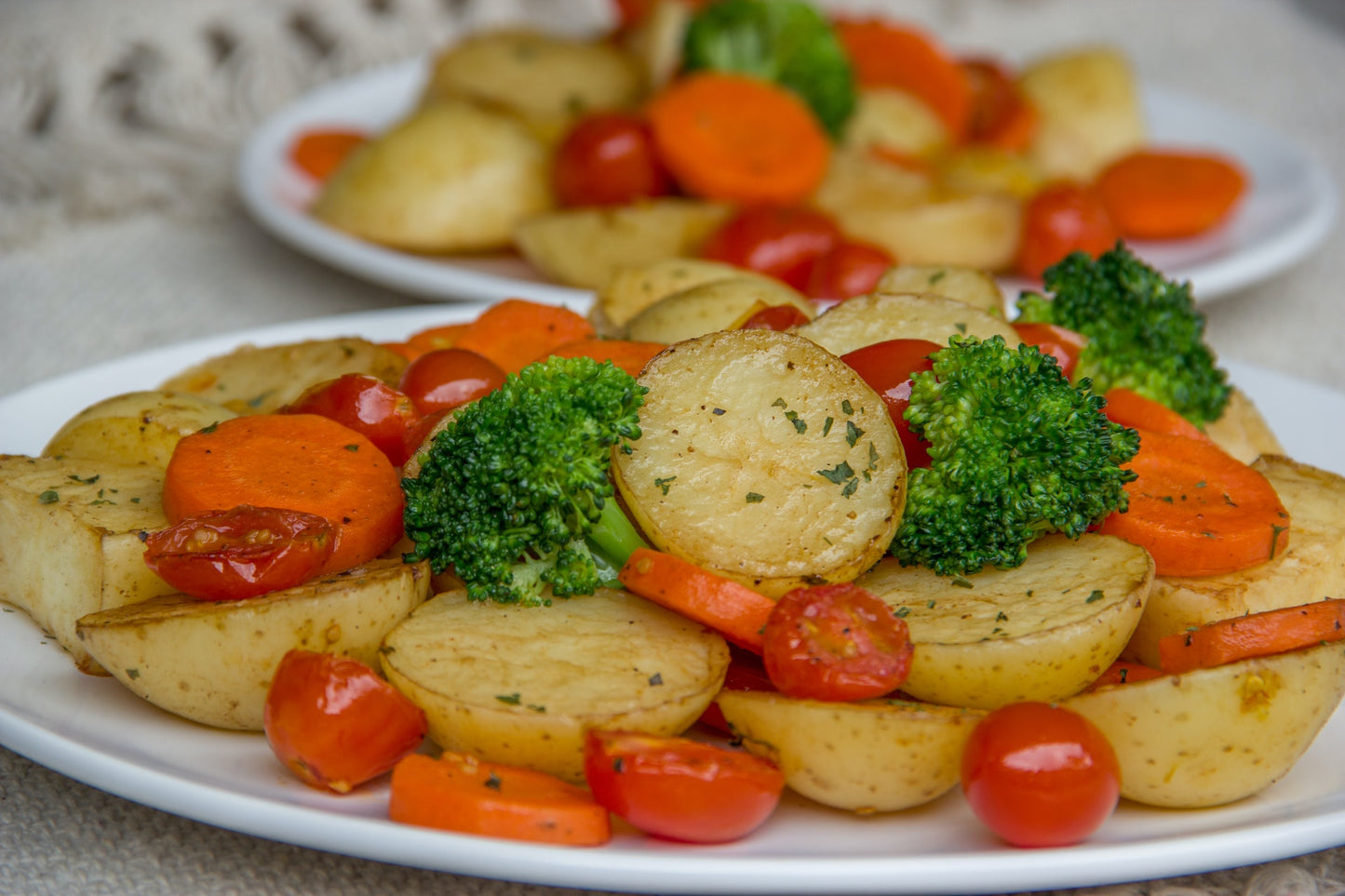 Who among us doesn't enjoy a side of delicious, crispy roasted potatoes? A sure-fire crowd-pleaser, our melt-in-your-mouth roast turmeric potatoes have a slightly crisp exterior and are packed with delicious spices including TurmeriX powder. Equally delicious straight from the oven, at room temperature or cold, our turmeric roast potatoes are ready to serve in just 30 minutes.
Turmeric has been traditionally used in Western herbal medicine to support healthy digestion. As an easy-to-consume turmeric powder, TurmeriX is the perfect addition to this simple-to-prepare dish. Ready to have your tastebuds dazzled? Try our delectable, crispy turmeric roast potatoes today!
Ingredients:
4 small to medium-sized red potatoes
3 tbsp olive oil
1 ½ tsp ground TurmeriX powder
1 ½ tsp ground coriander
½ tsp garlic powder
Salt and pepper to taste
Parsley for garnish
Method:
Preheat oven to 200°C. 
Wash and dry potatoes, then cut them into bite-sized pieces.
Place olive oil, TurmeriX powder, ground coriander and garlic powder in a small bowl. Blend well.
Pour the spiced oil onto the potatoes, and toss with a spoon to coat the potatoes completely.
Place potatoes on a lined baking tray, spreading evenly. Bake in preheated oven for 20—25 minutes.
Remove from oven. Season with salt and pepper, and garnish with parsley. Enjoy!
No matter the occasion, these delicious roast potatoes with turmeric are sure to delight. Keen to reap the many benefits that turmeric has to offer? Adding easy-to-use and great-tasting TurmeriX powder to your recipes is a simple way to incorporate the goodness of this ancient superfood into your diet.
For more delicious and nutritious food ideas, be sure to check out our huge collection of turmeric recipes. Have questions, comments or would like to leave a TurmeriX product review? Simply get in touch with our friendly and helpful customer care team today!